Everybody talks about drones and how they will be delivering parcels around the world in the near future.
Here at Milkman we're a curious bunch, so we decided to make some research and see for ourselves what's the real status of today's deliveries by drone.
It's been a fun ride and funnier still was the chance of deciding our very personal Top 3 list of the sturdiest, flight tested drones which have actually delivered something on someone's hands.
2015 has been a busy year in drone-delivery news. And not only thanks to Amazon: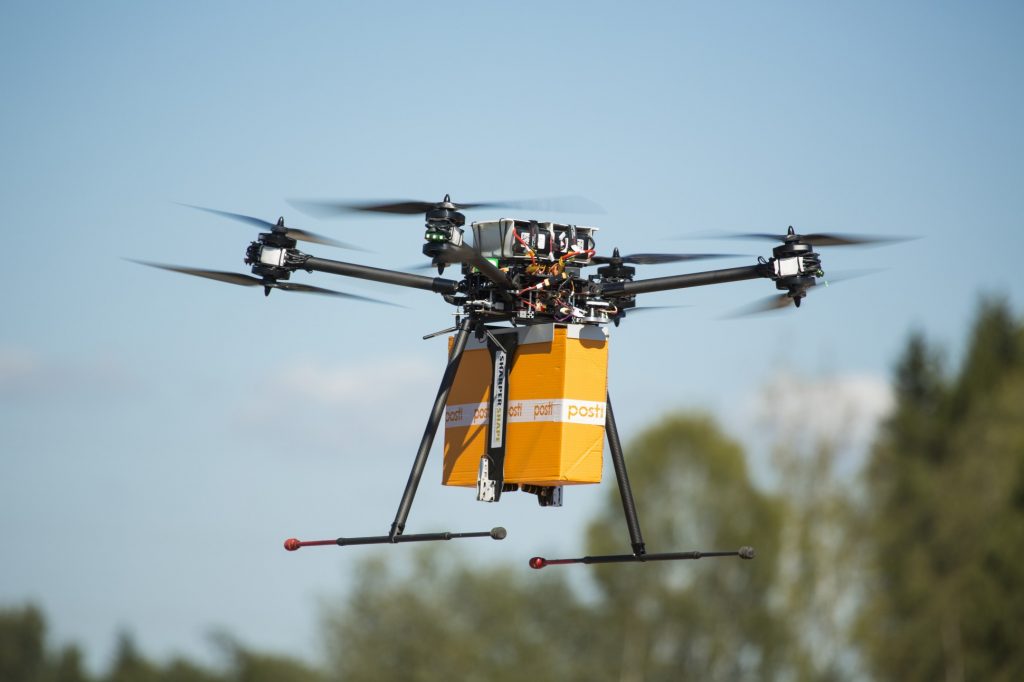 Finland's Posti Drone
In Finland: Posti Group (National Posts) has been the first company in Europe to experiment with unmanned aerial vehicles (UAV) for mail delivery in an urban area, with a partially obstructed flight path. They tested parcels weighing under 3 kg sent from Helsinki to Suomenlinna Island, which is home to about 900 permanent residents. Flight distance was 4 kilometers. Trial went on for 4 days, with the first official delivery landing off target for safety reasons, due to the strong wind.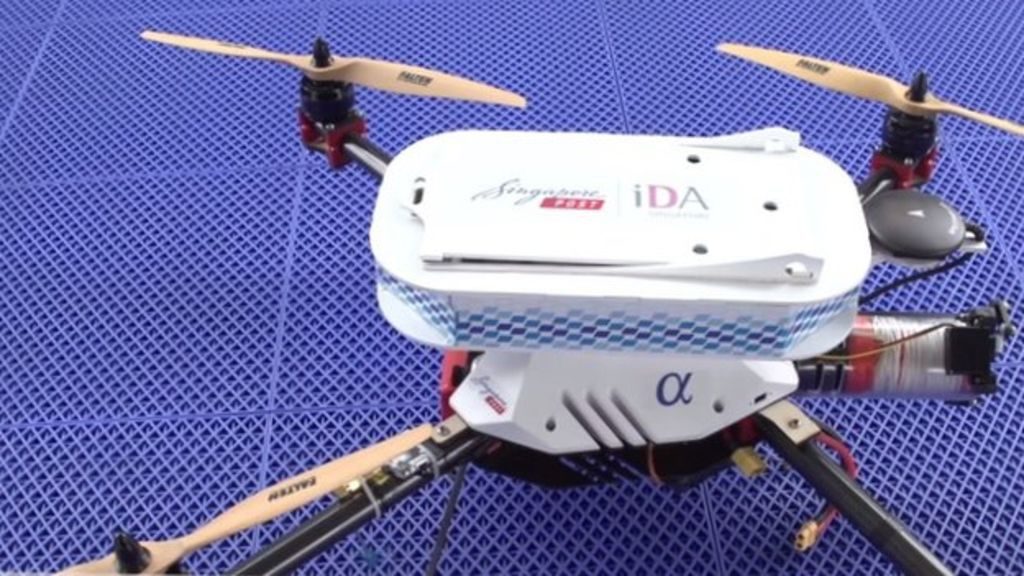 Singapore's Drone
In Singapore a drone built upon the Pixhawk Steadidrone platform by IDA Labs, with the capacity to carry a payload of up to half a kilogramme, flew from Lorong Halus to Pulau Ubin, carrying a letter and a t-shirt. It took 5 minutes, at an average height of 45 metres, for a distance of just 2,3 km.

France's Geopost Drone
In France: a 3,7 kg (8,2 lb) six-rotor prototype has reportedly transported a 2 kg (4,4 lb) package over a distance of 1,200 m (about 4,000 ft) at the CEEMA (Centre d'Etudes et d'Essais pour Modèles Autonomes) site.
And now the big guns! In a totally biased and personal order: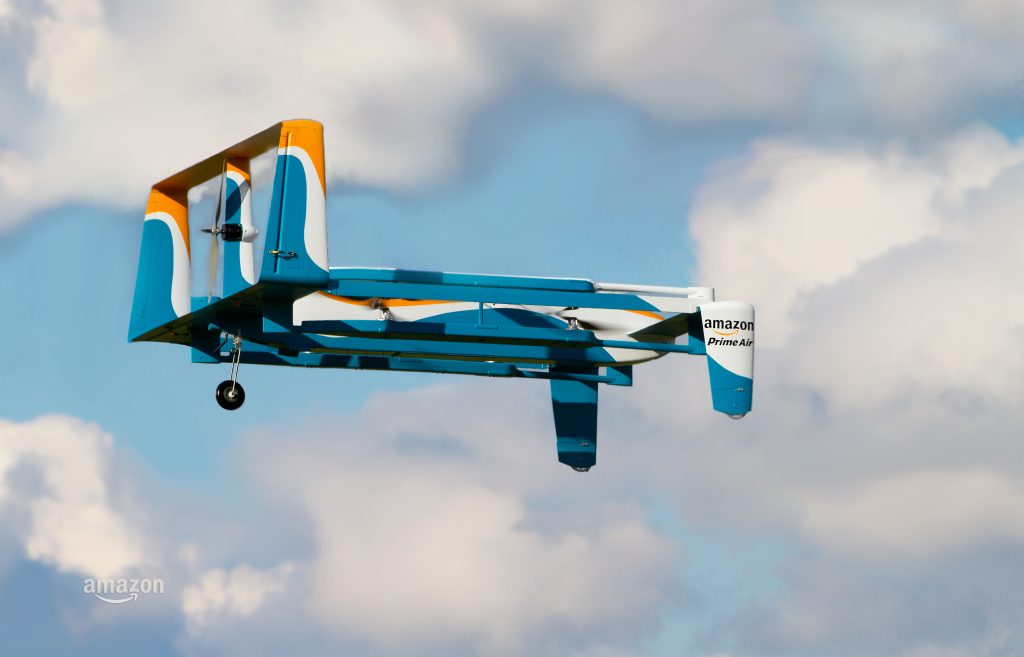 Amazon's Prime Air Drone
3 - Amazon Prime Air Drone: if only for its unbearable secrecy. The latest version, presented on November 30th, can average a 15 miles flight, at an altitude of 400 feet, max payload of 2,26 kg and has a 15 miles operational battery. It's a big, ugly boy, but we know that Bezos is no joker when it comes to tech innovations and so it will almost certainly be the first machine to be actually and daily used to deliver stuff. When, where and what we don't know: not at your doorstep anyway, not anytime soon.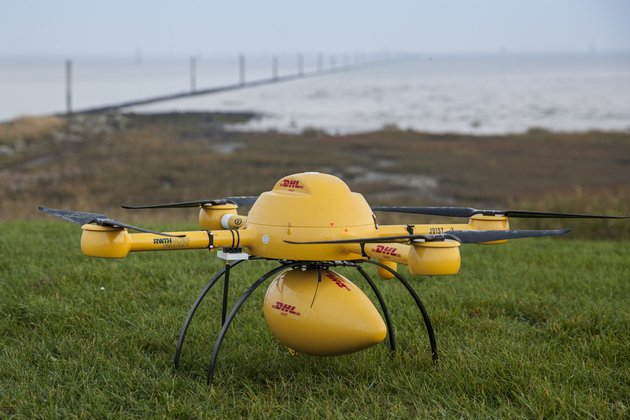 DHL's Packet Copter 2.0
2 - DHL Parcel Copter 2.0 (built together with Microdrones GmbH). The yellow quadcopter is the only one of the group who's actually in the field, working. It's operational between the shores of Germany, near the town of Norddeich, and the island of Juist, where it brings urgent medicine to the local pharmacy when the ferry can't cross because of low water and other aircrafts are grounded (fog or after 6 pm). 2.0 can carry up to 1,2 kg, flies for a staggering 45 min., relying on a 15 km data link established between two control stations (one on the mainland and the other on the island). The trip is about 12 km, made at about 100 metres of altitude, over raging northern seas, in the dark, fully automated.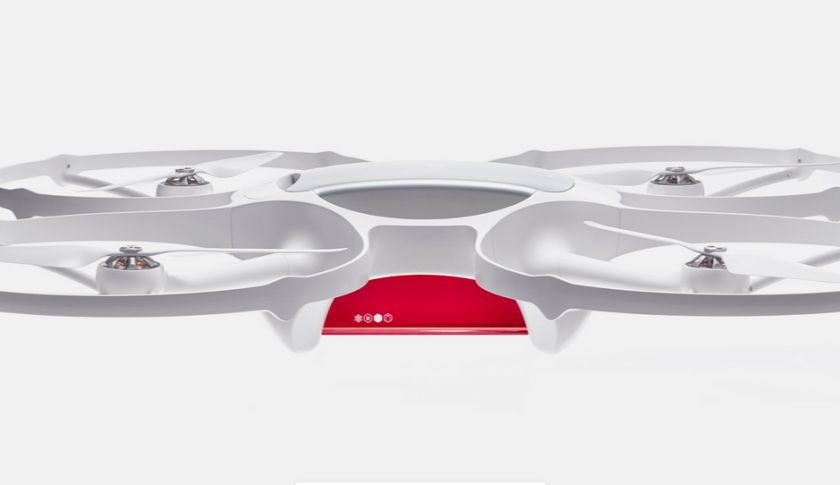 Matternet One
3 - Matternet One. Silicon Valley's drone has already been tested in the harshest possible conditions, bringing relief essentials to isolated communities in the high altitudes and thin air of Buhtan, in the humid hotness that lingers over the jungles of Papua New Guinea, the Dominican Republic and Haiti. Swiss Post is testing it right now over populated areas. It can carry 1 kilo with a 20 minutes battery run and navigates autonomously thanks to a cloud based software that avoids no-flight zones and obstacles. It wins because it's incredibly simple in his concept: you have two or more dock stations and it goes from one to the other in the fastest, shortest route. In case of failure it has a built-in parachute. You could even potentially charge it along the way adding more stations. It wins because its creators were smart enough to test it where there are no laws, no roads and it was sorely needed.