by Antonio Perini, CEO Milkman
"We are not good enough!" pointed out a provoking and inspiring Lord Stuart Rose, chairman of Ocado (and of many other retailing companies), in his keynote at Home Delivery Europe 2016 in London, this morning. He was speaking on behalf of the entire retail industry struggling to cope with extremely demanding shoppers.
That was the best quote I could think of as a summary of these two days, while wrapping up what I saw with the intention of writing down this post. Unlike what I had perceived at this same show in Atlanta, just a few weeks ago, I found the european Home Delivery industry somewhat more "scared" than its American counterpart. Booming volumes, dropping margins... even a sense of an imminent collapse, plus diffused and true concerns for the environmental sustainability of current and upcoming floods of parcels. These are exciting, sometimes scary times: in the air you can smell that sweet, vibrating perfume that preludes thunderstorms. We are only at the very beginning of a revolutionary period.
And thunders did not come too late. I heard a big guy like DHL declaring that the future of the last mile is (or should be) crowdsourced deliveries, no matter if this hurts DHL business. I personally don't believe it will really be so vital: pick any London street at any moment and you'll see 4 or 5 vans blinking on a side, they are delivering parcels and are far from being fully utilized. With more than 50% of the professional transportation capacity wasted everyday in Europe, I trust the next step is actually going to be saturation and consolidation, before we need to reach out to consumers for help.
Nevertheless, in these two days it became clearer to me that crowdsourcing is an actual reality, certainly a part of the big picture, definitely set to become a long-term solution. At least for A-B, intra-city, on-demand services, which now are a given fact in the UK (check Nimber out). And you can't count the number of Deliveroo drivers you see around at dinner time.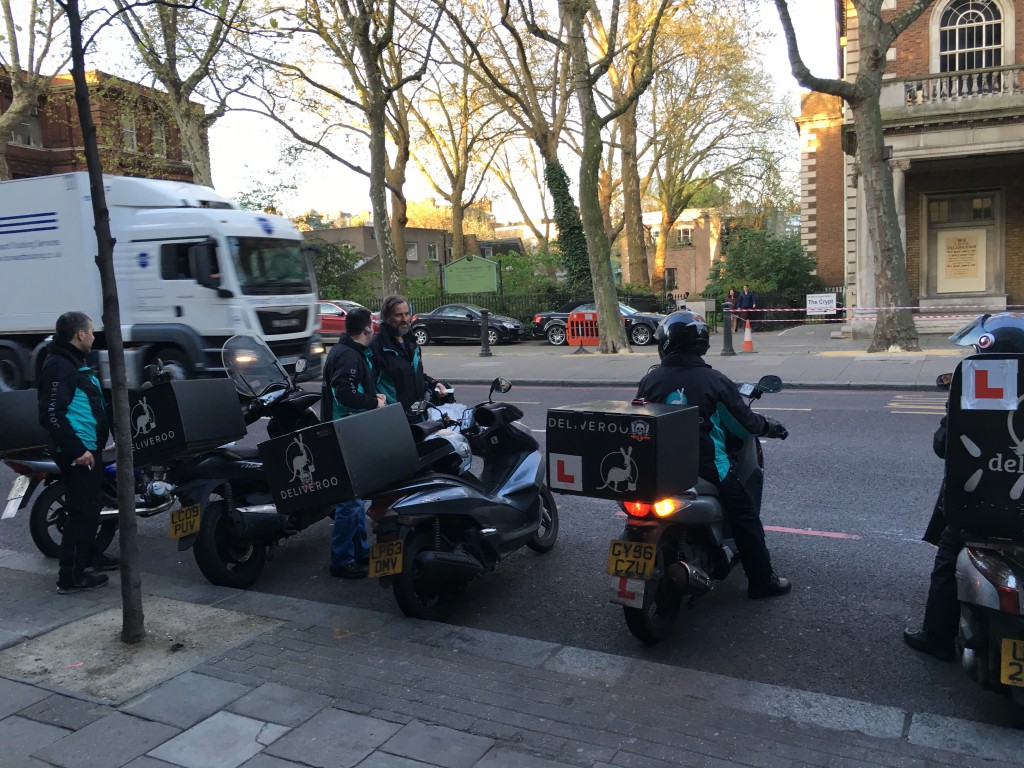 On-demand isn't everything in a consumer's life, however. As an example, my last Whatsapp chat was about drinking a beer with a friend; eventually, we decided to go for it on Sunday evening. I do not need a beer within the next hour (thankfully) and this means to me that on-demand is a big and fascinating new market, but the bulk of shoppers do not demand it at any given time. It is good, but not good enough. Most retailers were very clear about it, yesterday and today: the future of retail requires delivery options, options, options. Do not guess what shoppers may need because they are all different and buy in different scenarios. We will need to be fast, cheap, distinctive, flexible and creative at the same time.
In fact, the real focus of this year's show was mainly about "Disruptors", rather than old logistics KPIs. Thunders again: in the exhibiting area you could see more startups than booths of big players (who were giving talks in the other rooms) and such new models deserved a dedicated track of speeches. Everybody seems experimenting with some degree of supply chain integration, i.e. some backend efficiency integrated with new front-end experiences: many innovators are aiming straight to the shopper with new location-aware marketplaces. I think this is smart and let me sense that the future of Retail (pretty much like its past, now that I think about it) is - fundamentally - Distribution. Forget mobile-first, embrace logistics-first. Warehouse strategy seems to somehow get closer to UX design. Is it the digital domain lesson exported into the physical world?
We might not be good enough, but the great news - Lord Stuart Rose kept going - is that people shop more and enjoy their lives better. And that we do have a secret weapon to win these and all next challenges. Technology, that is.
Thanks to WorkWave for their kind invitation to attend the show.