Logistics operators, together with the police and doctors, are now the only citizens free to move without self-certification. We are not talking only about those employed in B2B, of course, but also of those who deliver to Italian homes.
In the war on the coronavirus, couriers, so reproached in times of "peace", have become heroes: on the front line every day, armed, whenever possible, with gloves and a mask, continue to guarantee a service that has become essential. With shops closed and the fear of going to the supermarket, e-commerce has turned from a whim into a necessity.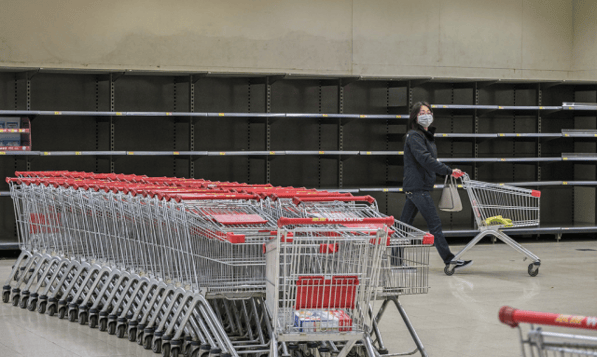 Grocery products sold online in the second week of March recorded a surge of + 97.2% compared to 2019 (Nielsen data), with expectations even higher than 15 days to receive your shopping. A sector whose penetration until a few days ago represented only 0.8% of the total (given Politecnico di Milano), is now at the forefront: it is inevitable that such volumes would send the calendars haywire. Amazon itself, which boasts an immensely more capillary and numerically superior fleet, is under pressure.
As Stefano Scapin, Milkman's Chief Revenue Officer, told Business Insider: "The surge in orders must be managed with careful planning, while food is in a phase that I would still call experimental. There is no consolidated supply chain at a time when, on the other hand, there is an unprecedented demand for primary goods. "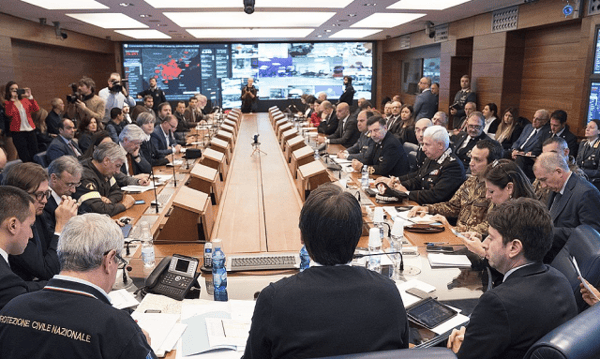 But what are the "essential" genres? The answer is not as simple as it might seem. Everything that gives the strength to overcome this moment is "essential": for each person who doesn't leave the house there is one less potential infected.
In this scenario the limitations of the "old" mentality with which many Italian companies have faced the advent of e-commerce become even more limiting. A user experience that allows you to have clear shipping costs and times during the purchase phase is essential, as well as the added value of the same-day and programmable deliveries in highly customizable time slots. Elements that allow the consumer to replicate without friction the experience he would have in the store and that can break the resistance posed by anxiety and uncertainty. Or simply from new habits and needs of life and work that until a couple of weeks ago we thought relegated only to certain dystopian movies.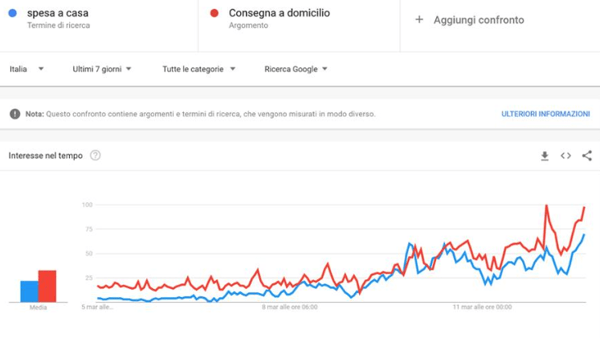 With searches for the terms "home shopping" and "home delivery" increased on Google in the last 7 days by 400% (source Google), the Italians are sending a clear message: give us the means to stay at home. We all know that Italy is lagging behind the rest of Europe as far as the penetration of e-commerce on retail is concerned and we certainly do not want to evangelize a digitalisation that destroys our heritage of shops and physical retail. It is hoped, however, that future investments will take into consideration the needs of a globalized reality and as such open to very rapid and sometimes unpredictable changes in needs. It seems all too clear in this dramatic situation how most companies have found themselves unprepared: insufficient logistics networks, sites that do not withstand soaring traffic, limited planning technologies, outdated delivery services. From this we must start again to build.
It is time to rethink your online sales and multichannel integration strategies. To solve the current, difficult, contingency but even more to lay solid and lasting foundations for the future: investing and changing today is necessary to re-start tomorrow.
The world we will live in tomorrow will not be the same we left before the explosion of this unexpected pandemic: the penetration of e-commerce on the total of Retail, historically lower in Italy than in the rest of Europe, will be projected suddenly into a new era. An era in which it will be necessary to have the ability to manage peaks of volumes without perceiving them as anomalies or emergencies. Companies will have to accelerate their digitization and be found as ready as ever, on pain of an irremediable distinction between supply and demand.
To satisfy these fluctuations you must have the entire paradigm of trade rotate on its axis, putting consumer freedom at the center and covering the needs of the seller and the supply chain, starting from the last mile, behind a technological screen. There will no longer be differences between online and offline but there will be a single offer that has to move from one channel to another without suffering.