Bad feedback is like catching a nasty cold in wintertime: you inhale the virus, then your nose starts to run, in a couple of days you're a shivering wreck and good luck in getting back to health.
We all know that the Web can be nasty: you don't hope for mercy while falling in the hands of disgruntled customers who have found a voice after centuries of mutism.
Do people have the power? It would be fairer to say that people believe to have it: they can kill a small business by posting bad reviews but they surely can't take down Amazon or some other Giant.
More the Giants will create higher and higher expectations that will translate in bad reviews for the small runners who can't keep pace: a basic exercise in mass manipulation.
We decided to check the Internet for feedback about some of the hottest startups working the on demand delivery sector in the USA. Three platforms were looked upon for each of them: Twitter, Facebook and Yelp and only the contents spanning from September to mid-December.
Doordash (Twitter 5,667 on main account - Facebook 37,521 - Yelp 752 reviews) - Launched in the South Bay of San Francisco in 2013, has expanded to Los Angeles, Boston, Chicago and several other markets. Value $600 million, potentially waiting for a $1 billion founding by Sequoia.

More love than hate on Twitter even if some tweets (about ⅓ of total) tend to complain about late or wrong deliveries, bad customer service and cold food. Things get nasty on Facebook: almost ¾ of the users who cared enough to write on their page were extremely angry, to the point of using questionable language. Yelp paints a slightly brighter picture: 3 ½ stars on 5, with almost no middle ground between 1 and 5 stars reviews. There's some really upset people out there and it seems that a better customer service would do miracles for Doordash' image.
Deliv (Twitter 962 - Facebook 15,547 - Yelp 1 review) - The Menlo Park's same day delivery startup, funded in 2012, is present on all three platforms but seems to attract few comments, which is, apparently, a good thing. No activity from users on the Facebook page and just one 5 star review on Yelp. Twitter is all about news and business, without significant personal comments.
Doorman (Twitter 1,818 - Facebook 43,175 - Yelp 15 reviews) - All well for this company, now expanding from San Francisco to Chicago and New York: Twitter is dead calm; Facebook, apart from their disproportionate love for Buddy the Elf, is a hug party; Yelp has 4 ½ stars on 5, with only two 1 star reviews.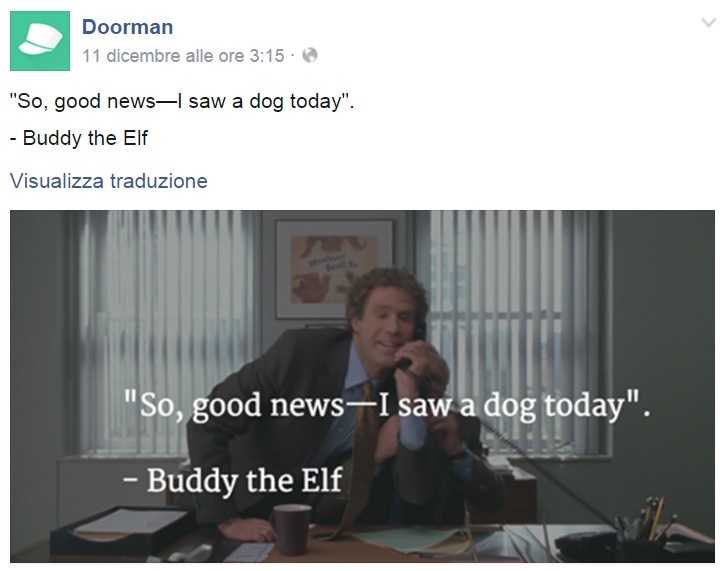 Instacart - (Twitter 15,300 on main account - Facebook 43,175 - Yelp 239 reviews on San Francisco's page) - There's a lot of love for Instacart on Twitter; Facebook is plain about business; Yelp has a disappointing 3 stars on 5, with customers complaining about wrong items, bad choices regarding the state of fruit and vegetables, high prices. The issue here seems to lay more on the Instacart shoppers' side: in the Internet era a sloppy worker can endanger a whole company.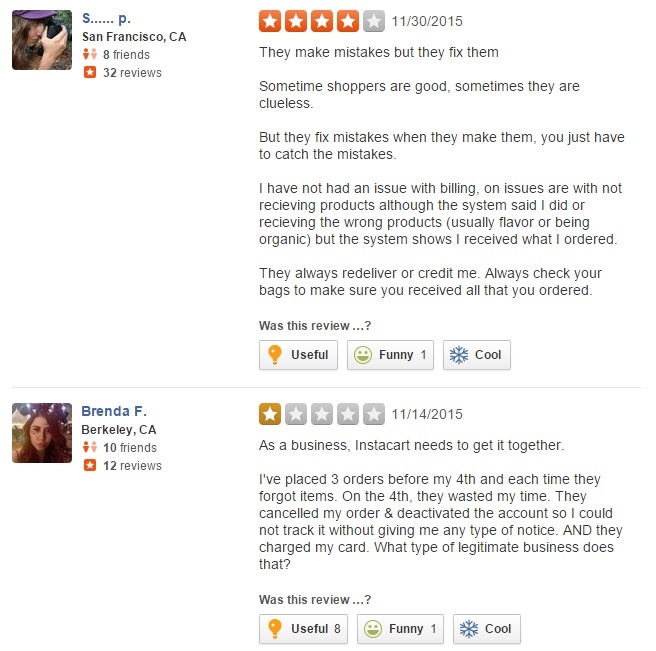 Postmates - (Twitter 54,400 on main account - 62,081 Facebook - Yelp 264 reviews) - Gets some love on Twitter, where users seem to appreciate its cool factor; Facebook and Yelp gather all the angry posts: only 2 stars on the latter, with people complaining especially about the quality of food deliveries and, again, a seemingly unfindable customer service.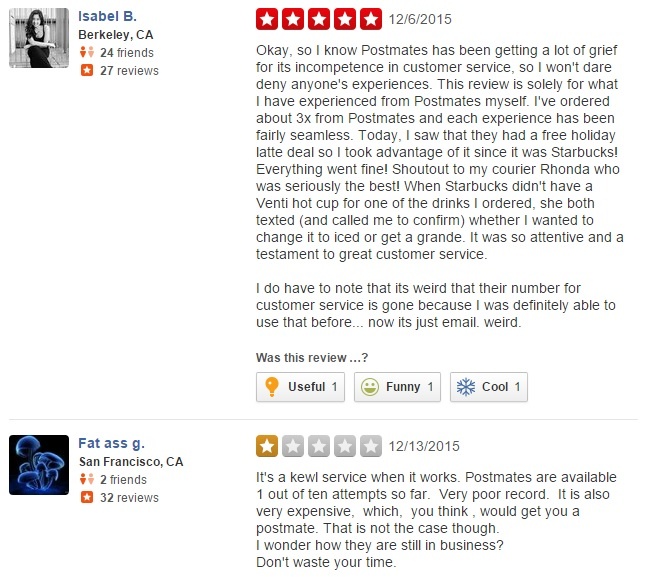 Social Media are a wonderful way to connect with people but, as you can see, may easily backlash. What we learned from our little investigation is that customers tend to be more vocal when they have to complain, a well known social phenomenon that's possible to apply to every business sector.
Angry Tweets are rare, maybe because it's not easy to express frustration in 140 keyboard hits or maybe because the average Twitter user is more tech-savvy and realistic in his/her expectations. Facebook users are the nastiest, followed by Yelp.
It's also more difficult to make people happy while delivering food than other items: it requires a strong logistic backup, fast and efficient, or the edibles will inexorably see their quality sink.
For the time being, considering the explosion of food delivery startups all over the States, expectation may be too high. There's good reasons if, until now, gourmet foods from restaurants were not delivered at home: they require more care than pizza, hamburgers or chinese noodles and should be eaten on the spot. Cities are still too big and unpredictable to allow implicit smoothness to these services.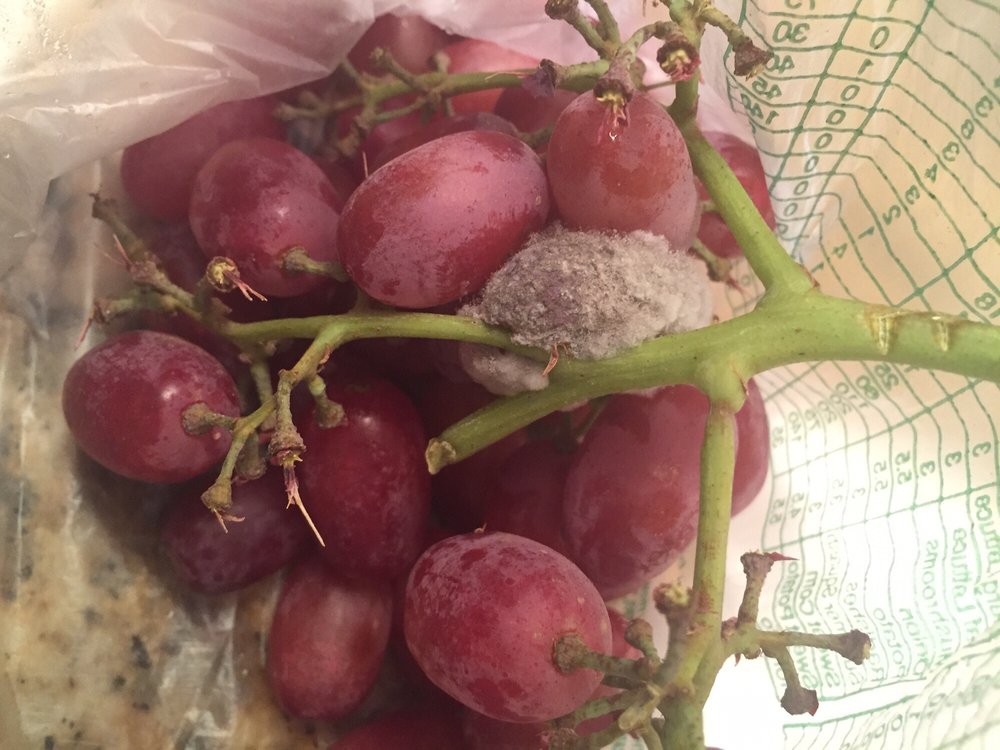 A moldy grape delivered by some absent-minded Instacart shopper